Revival Cruise July 2019
March 27, 2019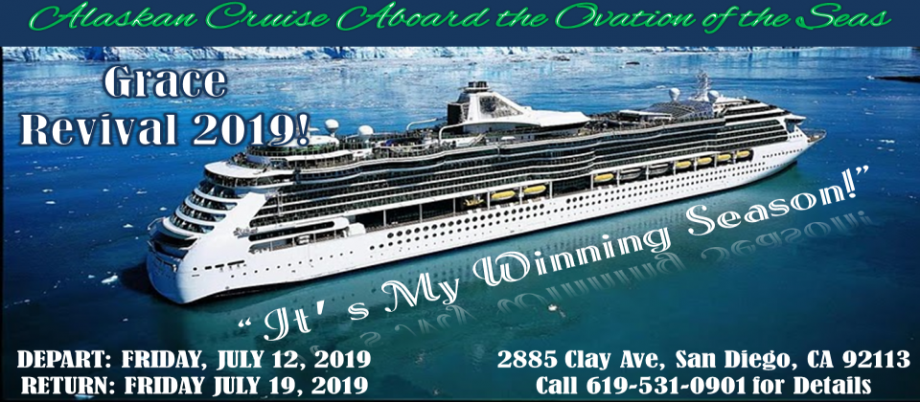 Grace Covenant has occassionally hosted Revivals on cruise ships for several years. This is not only our opportunity to be spiritually revived, but also a large scale witnessing opportunity to bring people to Christ. Be a part of the vision!

REVIVAL 2019 UPDATES: GOD has blessed us to be on the Ovation of the Seas from July 12-19, 2019 for our Revival 2019 Alaska Cruise!
MAKE SURE YOUR TRAVEL DOCUMENTS ARE UP TO DATE! If you do not have a passport, please make sure that you have your original birth certificate and your driver's license!

Check out the packing list: http://www.graceccc.com/church-calendar/alaska-revival-july-2019-packing-list.html It is also on the Shekinah window and on the Harvester's Hall bulletin board! Start packing for Alaska!

Attention Revival Attendees who are flying to Seattle with our Southwest Airlines group on Thursday, July 11, 2019: Our Thursday, July 11th itinerary is the same, but Southwest airlines has changed our return flight from Seattle to San Diego on Friday, July 19th: we will leave Seattle on Friday, July 19th at 2:35 pm and arrive back in San Diego at 7:30 pm. PLEASE NOTE THE CHANGE!
Back