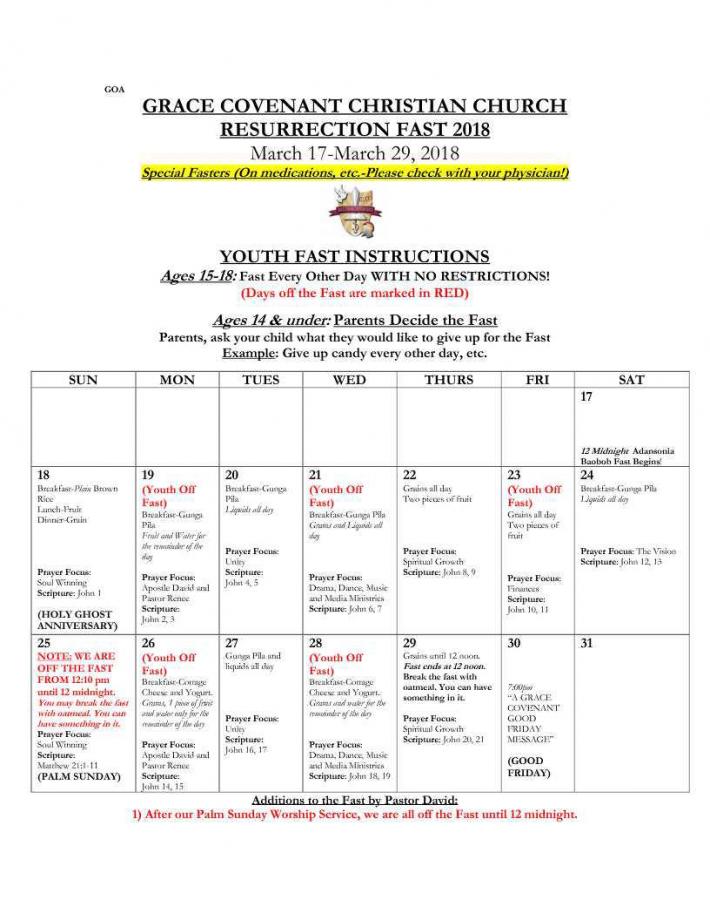 Additions to the Fast by Pastor David:

1) After our Palm Sunday Worship Service, we are all off the Fast until 12 midnight.

GOA
GRACE COVENANT CHRISTIAN CHURCH
RESURRECTION FAST 2018
March 17-March 29, 2018

INSTRUCTIONS:
Everything is with temperance.
No coffee
At least 8-10 (8 oz.) glasses of water everyday
Special Fasters (On medications, etc.-Please check with your physician!)
Please add the following foods with NO seasoning:
Beans, oatmeal, toast with no butter, steamed vegetables and
Bagged Rice (no instant)
Juicing

INGREDIENTS/DIRECTIONS FOR GUNGA PILA:
½ cup milk (use ½ cup of soy milk if you are lactose intolerant), ½ tsp. vanilla, ½ avocado-peeled,
2 tsp. honey, 1 banana, pinch of cinnamon, 1egg (optional)
Place the ingredients in your blender and blend until they are a smooth/drinkable consistency.

LIQUIDS:
Water, Gatorade, Powerade, 100% fruit juices, V8 100% vegetable juice, clear broth, tea,
cream of chicken soup, cream of mushroom soup, split pea soup and tomato soup.

GRAINS
Corn meal mush, oatmeal and plain brown rice. NO POPCORN!!!

START DATE: March17, 2018 (At 12 Midnight)
END DATE: Thursday, March 29, 2018 (At 12 Noon)

PRAYER TIMES (3 Times A Day)
Wake-up Prayer
Mid-day Prayer
Bed-Time Prayer

SCRIPTURES TO FEAST ON
Isaiah 58:6-8 and Matthew 6:16-18

NOTE: If you feel weak, please give your leadership a call!!